Not your ordinary shuttle.
MyPinkBus is more than just a way to travel; we're a platform for travelers to connect, forge friendships, and craft memories from the moment they step onboard one of our shuttles. Currently servicing eight distinct routes across Panama and Costa Rica, we aspire to connect every corner of Central America by the close of 2024. We aim to be your preferred choice, wherever your wanderlust beckons.
See our destinations
For travelers, by travelers.
Our journey began twards the end of 2022 when we observed a need for dependable, exceptional transportation services abroad. As a company of seasoned travelers ourselves, we recognized that the process of navigating the pool of indistinguishable shuttle services is often complicated, confusing and impersonal.

We understand the unique frustration of arriving at a new location and being unable to locate the right shuttle to board. Our solution? A reliable, memorable transportation experience packaged in the form of a striking, unmistakable pink shuttle. No more guessing games; you'll be able to spot us from afar.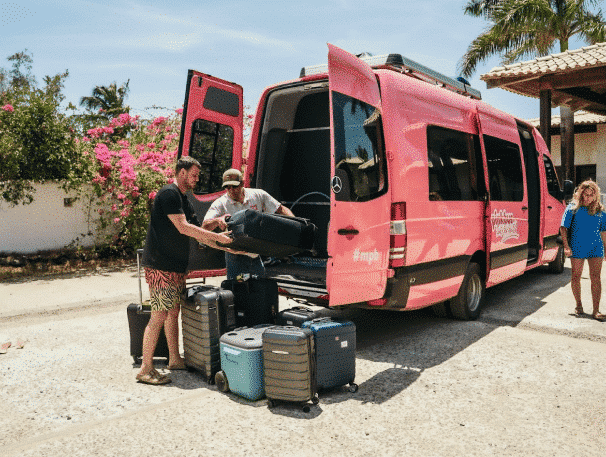 Find community abroad.
The #MyPinkBus experience is not simply a shuttle service from point A to point B, but rather a safe and secure traveling bubble where passengers can meet other travelers and connect along their own journeys. Our drivers are as friendly as they come, and all of our vehicles come equipped with a variety of interactive amenities designed to make your trip as enjoyable as possible. We pride ourselves on cultivating a community of welcoming and passionate fellow travelers, ensuring you always feel at ease, especially if you are traveling solo. No matter your type of trip, you will never feel as if you have to go it alone.
Check out our Instagram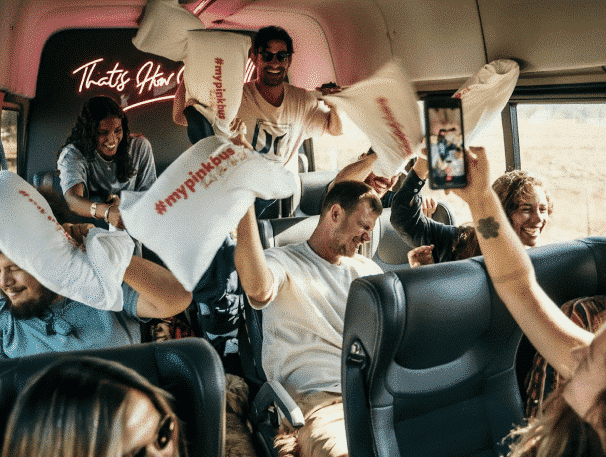 Quality first, always.
Our mission is clear-cut: we're here to enhance your travel experience in Central America, making it seamless, enjoyable and unforgettable. We are committed to offering quality without exorbitant costs – affordability without compromise. Our exceptional team of drivers and managers are dedicated to not only ensuring that your trip is smooth and safe, but also guaranteeing that it is nothing short of an immersive adventure.

At MyPinkBus, we don't just settle for the status quo. We go above and beyond to ensure that every facet of your journey is meticulously crafted with your comfort and satisfaction in mind. Our commitment to creating the best traveler-first experience is at the heart of everything we do.